Advance buzz on "Training Day," directed by Antoine Fuqua (2000's "
Bait
"), has surrounded the performance by Denzel Washington (2000's "
Remember the Titans
"), a marvelous actor who almost always plays the hero in his films. Twisting a complete 180, Washington plays a very crooked, decidedly psychotic bad guy who somehow manages to still seem charming. At least in the first hour, that is. Washington is absolutely electrifying in the sort of startlingly range-stretching role that could prove too good for the Academy Awards to pass up come nomination time in February.
Washington and co-star Ethan Hawke (1999's "
Snow Falling on Cedars
") are so good, in fact, that they easily stand out in a cop drama that, unfortunately, is merely adequate. As a film, "Training Day" captures your attention but doesn't hold the power to stick with you for too long. And while the police-slice-of-life-turned-revenge-thriller climax raises the stakes (and the tension), it also becomes progressively overwrought, bloody, and exploitative, as if the screenwriter of Charles Bronsan's "Death Wish" did a last-minute rewrite on the project.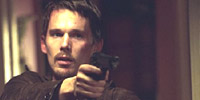 Set entirely within a particularly chaotic 24-hour period, rookie cop Jake Hoyt (Ethan Hawke) wants nothing more than to join the ranks of L.A.'s narcotics unit. Taken under the wing of a tough-talking veteran named Alonzo Harris (Denzel Washington), who is to show him the ropes of a normal day on the job, it quickly becomes apparent that Alonzo is anything but "normal" in the way he handles his work. Forcing Jake to smoke some weed laced with PCP that they confiscate from a group of teenagers, Alonzo drinks and drives, and believes it to be his duty to beat up criminals to an unrecognizable pulp rather than arrest them.
Alonzo Harris is the type of man who usually is able to slide by on his charm, even when the things he is doing are despicable (not to mention illegal, even for the police force). For a while, Alonzo appears to simply be having some fun with the new guy. Something definitely feels off to Jake about his recruiter, and although he accepts Alonzo's unorthodox teachings at first, he soon is put into frightening situations in which he has good reason to fear his own life.
Ethan Hawke, whose character we follow throughout, finds just the right balance between cockiness and unsure naivete to turn Jake Hoyt into a fellow who represents the good to Alonzo's bad. Washington has the flashier role, and as such, he nearly scorches up the screen with his downright evil self-assuredness. This is Washington's movie through and through, and he is the reason why the picture works.
Without Washington or an actor of equal intensity, "Training Day" would be at a loss for fresh material. Washington and Hawke make it feel somewhat new, to be sure, but the film remains a sort of shopworn curiosity rather than a fully written story with a satisfying payoff. The ending comes as a disappointment in that it never really solves anything, nor does it hold the powerful catharsis that is required to make Jake Hoyt's unlikely story one that needs to be told.
While the picture, tautly directed by Antoine Fuqua and snappily, if unevenly, written by David Ayer (2001's "
The Fast and the Furious
"), is primarily a two-character show, a pair of bright supporting performances do shine through. Scott Glenn (2000's "Vertical Limit") relishes his accessibly likable, spirited role of Alonzo's buddy, and R&B artist Macy Gray is a surprising revelation in a memorable one-scene part. Other musician cameos do not fit as well, with Snoop Dogg (2001's "
Baby Boy
") and Dr. Dre (1999's "Whiteboys") proving to be more annoying and positively notable.
As a stand-alone motion picture, the movie is technically well-made and always engrossing, yet never escapes its tried-and-true roots or silly finale. To see "Training Day," however, is to see a graphically violent thriller that is worth seeing at some point or another solely for the awesome work turned in by Denzel Washington. Some movies are made or broken by its star, and such a statement couldn't possibly be more appropriate than it is for "Training Day."
©2001 by Dustin Putman