The Boxtrolls

Nationwide - While "The Boxtrolls" does not match the lingering heartbeat found within "ParaNorman," it is a quirky, imaginative entertainment all the same with an enormous amount to say about parent-child relationships, the trouble with reading a book only by its cover, and the dangers of not asking questions and believing everything one is told.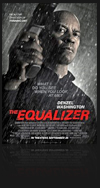 The Equalizer

Nationwide - "The Equalizer" isn't above excess—there is a slow-motion walk away from one of screen history's most bombastic explosions, for instance—but it delivers upon all of its gritty, crowd-pleasing pursuits. If big-screen, Denzel Washington-led follow-ups are as inspired as this one, bring them on.

The Rover

Now on Blu-ray - An untamed, uncompromising post-apocalyptic vision of Australia in the "Mad Max" vein, "The Rover" is a scabrous, tightly drawn chase drama—even if, ultimately, the narrative doesn't lead anywhere particularly new.

Read Full Review »
Read Blu-ray Review »



The Skeleton Twins

Nationwide - An observant double character study, "The Skeleton Twins" revolves around two protagonists who are worthy of the viewer's time and sympathy. The film gets beautiful mileage out of the sterling work of the indomitable Kristen Wiig and a revelatory Bill Hader.

Tusk

Nationwide - Deeply weird and spectacularly wonderful. "Tusk" thrillingly, inventively lives up to the mystique of its conceptual birth. With Kevin Smith once again moving full throttle ahead with indie-spirited passion projects, it is an exciting proposition waiting to see what he'll dream up next.

New from TheBluFile:

The Latest Blu-Ray Reviews
New reviews include: "The Battery," "The Rover," "Night Moves," "Words and Pictures," "Pumpkinhead" and "Graduation Day."
Published Theatrical Reviews:
2,670

Dustin & his movie review
website were named a
"Hot Site" by USA Today!
This website is dedicated to the memory of Rhudel Putman II.