"
American Outlaws
" did nothing to help the struggling western genre, and "Texas Rangers," which has sat on the shelf for nearly two years, is even worse. Aimlessly directed by Steve Miner (1998's "
Halloween: H20
"), the film is a slapdash retread of Old West cliches and cardboard cutout characters, with more than a few television stars (James Van Der Beek, Dylan McDermott, Ashton Kutcher) and musicians (Usher Raymond, Randy Travis) thrown in for good measure.
Loosely based on a true story that took place in 1875 near the Texas-Mexico border, Leander McNelly (Dylan McDermott) is appointed to round up a group of amateur rangers to help fight the oily King Fisher (Alfred Molina) and his murderous, cattle-smuggling henchmen. Put forth to aid in the cause is Lincoln Rogers Dunnison (James Van Der Beek), who has just seen his entire family murdered by the criminals; the aspiring, clumsy George Durham (Ashton Kutcher); and a token black guy by the name of Randolph Douglas Scipio (Usher Raymond).
Wretchedly edited and consequently empty (an obvious result of post-production tinkering), "Texas Rangers" isn't a wholeheartedly embarrassing motion picture, but it comes pretty close when the characters are forced to speak the insipid dialogue, written by Scott Busby and Martin Copeland. The most unfortunate victim of the screenplay is rising young actress Rachael Leigh Cook (2001's "
Josie and the Pussycats
"), as a potential love interest to both Lincoln and George, who has found her part whittled down to only a few short scenes and a handful of unintentionally funny lines. Cook is unusually mediocre (at times terrible) here, not that she had anything to work with in the first place.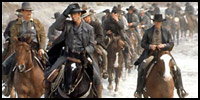 As for the rest of the actors, they prove to be little more than serviceable at the hands of sporadically artificial character-building moments and a few violent, uninspired action scenes. Dylan McDermott (TV's "The Practice"), as leader Leander McNelly, has the quasi-tragic task of playing a man who knows he is slowly dying, and he is bland as usual. James Van Der Beek (TV's "Dawson's Creek"), as Lincoln, is the major selling point of the picture and little else. And Ashton Kutcher (TV's "That 70's Show") is the comic relief, as George. The supporting cast is surprisingly deep in talented actors, such as Tom Skerritt, Matt Keeslar, Jon Abrahams, and Alfred Molina. The only reasoning for their participation must be related to the apparently lengthy cuts off the running time.
What the finished product of "Texas Rangers" leaves us with is a stream of pretty images, courtesy of cinematographer Daryn Okada (2001's "
Dr. Dolittle 2
"), at the hands of an uninspired, flat-footed story treatment. Being released into a few hundred theaters without any notable advertising or advance screenings, it is easy to see why it took "Texas Rangers" so long to reach multiplexes. More perplexing is how it got there at all.
©2001 by Dustin Putman