A bigger, flashier, more imaginative sequel to 2001's surprise hit, "
Spy Kids
," "Spy Kids 2: The Island of Lost Dreams" also holds the distinction of lacking the warmth and soul that made its predecessor such a worthwhile family entertainment. Director Robert Rodriguez evidently felt pressure to outdo
the original film
in every way, but his "everything-but-the-kitchen-sink" approach grows wearisome by the halfway point. In "Spy Kids 2," there has seen an obvious increase in characters and special effects, but a decrease in solid plotting and heartwarming character interactions.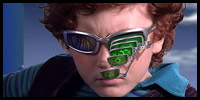 As the picture begins, top sibling spies Carmen (Alexa Vega) and Juni Cortez (Daryl Sabara) feel cheated and underappreciated when they save the young daughter (Taylor Momsen) of the President from atop a violent amusement park ride, but the credit goes to smarmy child spy rivals Gary (Matthew O'Leary) and Gerti Giggles (Emily Osment). When Gary and Gerti are sent on a mission to locate a stolen device capable of shutting down the world's electricity, Carmen and Juni redirect their path to the Gobi Desert and decide that this job is their only chance to prove everyone wrong about their abilities. After crash-landing on a mysterious island not seen on any maps, the only resident they find is mad scientist Romero (Steve Buscemi), who is holding their sought-after device and planning to set its abilities into action. Meanwhile, Juni and Carmen's adult spy parents, Gregorio (Antonio Banderas) and Ingrid (Carla Gugino), set off to find them, with Ingrid's own mother (Holland Taylor) and father (Ricardo Montalban) in tow.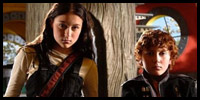 As you may be able to tell, "Spy Kids 2: The Island of Lost Dreams" is overstuffed to the point of tedium. Too much is going on in this too-long 100-minute family action pic to get a chance to stop and make you care, or even really get to know, any of the new characters. In the first "
Spy Kids
," the joyous, intentionally B-grade special effects were at the service of the spy kids' mission, rather than as a means of showing off, and the familial relationship between the Cortez's seemed believable and loving. Here, the parents drift into the background to such a degree that Antonio Banderas (2001's "
Original Sin
") and Carla Gugino (2001's "
The One
") make little more than extended, aimless cameos.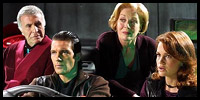 Since the movie is but a melange of sound and action, at least it is orchestrated with pep and style under the helm of writer-director Robert Rodriguez (1998's "
The Faculty
"). The prologue, set at a demented amusement park where the extreme rides truly look life-threatening, is a visual feast of creativity and special effects virtuosity. Additionally, Romero's island is overrun by deformed animal creatures that include a winged pig, slithering serpents, and a cow with a fish's head. Rodriguez has said that he brought to life in "Spy Kids 2" every dream he has ever had. In shadow of the evidence provided, I would almost believe him on such a statement, although that may leave him with few invigorating ideas when "Spy Kids 3" goes into production next year.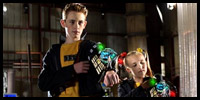 Reprising their roles of bickering, but caring, siblings Carmen and Juni, Alexa Vega and Daryl Sabara ease smoothly back into their characters. Despite working as spies, they seem like real kids, with the sort of intelligence and resourcefulness that young viewers will eat up. As their less virtuous spy kid adversaries, Matthew O'Leary (2002's "
Frailty
") and Emily Osment do good work without overacting. It must be said that Osment, Haley Joel's younger sister, looks ominously like her brother with pigtails. The creepy resemblance is almost uncanny. Taylor Momsen (Little Cindy Lou Who in 2000's "
How the Grinch Stole Christmas
") is also cute as the President's disgruntled daughter. In a rare disappointing performance, Steve Buscemi (2001's "
Ghost World
") is no match for
the previous film
's heavy, Alan Cumming (who briefly shows up for a day's work). Buscemi isn't the least bit threatening; in fact, his Romero is a veritable wimp.
With the climax of "Spy Kids 2: The Island of Lost Dreams" comes the discouraging action of a shrug. The film will entertain children, to be sure, and is clever enough to even be tolerable for the older audience members, but it is plagued by an emptiness inside that cannot be denied. Robert Rodriguez was so concerned this time around with his visual effects unit that he denied the movie of what it yearned for the most: a heart.
©2002 by Dustin Putman