A spoof of the popular "teen movie" genre (and Columbia Pictures' obvious answer to the wild success of 2000's "
Scary Movie
"), Joel Gallen's "Not Another Teen Movie" may just have more direct movie references than any other movie in film history. To name just a "few" movies that get their moment in the spotlight: "Sixteen Candles;" "The Breakfast Club;" "
Varsity Blues
;" "
Jawbreaker
;" "She's All That;" "
10 Things I Hate About You
;" "Pretty in Pink;" "Ferris Bueller's Day Off;" "
Never Been Kissed
;" "
American Pie
;"
American Beauty
;" "Rudy;" "
Cruel Intentions
;" "
Bring It On
;" and "Can't Hardly Wait." While it may be fun to pick out all of the send-ups, that is as far as one's enjoyment will likely go. With so many screenwriters on board (Michael G. Bender & Adam Jay Epstein & Andrew Jacobson and Phil Beauman & Buddy Johnson), you would have thought someone could have come up with material a little less lame than what is offered.
The flimsy plot--only an excuse to line all of the jokes up--is a direct copy of "She's All That." At John Hughes High School, the Popular Jock (Chris Evans) makes a bet with the Cocky Blonde Guy (Eric Christian Olsen) that he can turn the Pretty Ugly Girl (Chyler Leigh) into the next prom queen. Also on board is the Cruelest Girl in School (Mia Kirshner), who is dead-set on an incestuous relationship with her brother, the Popular Jock; Three Desperate Virgins (Cody McMains, Sam Huntington, Samm Levine); the Token Black Guy (Deon Richmond); the Bitchy Cheerleader (Jaime Pressly); the Stupid Fat Guy (Ron Lester); the Beautiful Girl (Lacey Chabert); and the Naked Foreign Exchange Student (Cerina Vincent).
With such an exhaustive amount of characters, "Not Another Teen Movie" is too ambitious for an 85-minute running time (including credits) and, thus, comes off feeling unsatisfying. The now-tired bathroom and sexual humor isn't much help, either. The majority of the comedy is unoriginal and, worse, predictable. Director Gallen, making his feature-film debut, assumes too often that simply replaying scenes from other movies will be funny without putting a wicked spin of his own on them.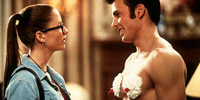 That isn't to say the film is a complete bust. For those in the right frame of mind, there are definite laughs to be had. A take-off on the same-sex french kiss in "Cruel Intentions" with Sarah Michelle Gellar and Selma Blair is hilarious, with the Cruelest Girl teaching the octogenarian news reporter posing as a high school student (Beverly Polcyn in an outrageous performance) how to get to first base. Their rowdy, saliva-drenched tongue lock is an image I may never ever get out of my head. Likewise, the opening scene (a riff on "American Pie") has the Pretty Ugly Girl masturbating in bed with a vibrator, only to have it get stuck in her while her family, one by one, waltzes in to her room to wish her a happy birthday.
But the best moment--one that hints at how innovative the movie might have been with a little more work--is an unsuspecting song-and-dance number that almost the entire cast of characters gets in on. Vibrantly scripted and choreographed, the picture comes to sudden life for three minutes of sheer hilarity.
With so little time to spend with any of the purposefully cliched characters, no one gets a chance to particularly stand out from the pack (aside from the aformentioned Polcyn as the elderly reporter), but they're all good sports. With a cute cameo from '80s teen princess Molly Ringwald, a special appearance by the house from "Ferris Bueller's Day Off," and enough '80s songs to satisfy anyone's nostalgia longings, there are clever scenes to be had, but twice as many ultimately fall flat.
The film is not as shocking as it wants to be (could anything shock viewers these days?), and by very nature that this is a spoof of teen comedies is just asking for trouble. How do you take jabs at things that were supposed to be comical in nature to begin with? "Not Another Teen Movie" never quite figures out the answer to this.
©2001 by Dustin Putman