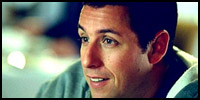 In his ongoing resume of comedic credits, Adam Sandler is known to alternate between outlandish characters with speech impediments (1998's "
The Waterboy
," 2000's "
Little Nicky
") and more down-to-earth guys with hearts of gold (1998's "The Wedding Singer," 1999's "
Big Daddy
"). The latter category has always made for his more successful pictures, because the person Sandler is playing is more easily related to and doesn't have to hide behind unctuous mannerisms. In "Mr. Deeds," directed by Steven Brill, who last made the misfire "
Little Nicky
," Sandler is back to form in a movie that has its share of over-the-top moments, but is likable for its underlyingly sweet love story.
Ever since "Mr. Deeds" was announced as Sandler's next starring vehicle, cynical critics have chastised it for fear that it would tarnish 1936's Frank Capra classic, "Mr. Deeds Goes to Town," from which it is based upon. Whether it does or does not do justice to its predecessor, 66 years is more than enough time between films for it to not make any difference whether this present-day remake stacks up. Viewed on its own terms, "Mr. Deeds" is an occasionally, and purposefully, cornball comedy whose jokes don't always work, but has an eager-to-please charm that brightens up the rough patches.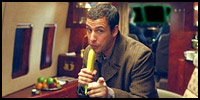 Longfellow Deeds (Adam Sandler) is a happy-go-lucky owner of a pizza parlor in the small, Norman Rockwell-ish town of Mandrake Falls, New Hampshire. When he is approached by Manhattan entrepreneur Chuck Cedar (Peter Gallagher) and informed that he will inherit $40-billion from his recently deceased uncle, whom he has never met, if only he sells his share of Blake Enterprises over to the oily Cedar, Deeds agrees to accompany him back to New York City. Enter tabloid news reporter Babe Bennett (Winona Ryder), who poses as innocent school nurse Pam Dawson to secretly tape Deeds doing anything that could tarnish his image. While undercover, however, Babe comes to realize how wrong what she is doing to Deeds is and, what's worse, is actually falling in love with him.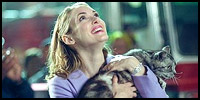 "Mr. Deeds" offers little of creativity or substance to its decades-old storyline and humor, but it does feature a romance that, for Sandler, is as gentle and effective as any of his movie pairings since Drew Barrymore in Sandler's easily best film, "The Wedding Singer." "Mr. Deeds" does not reach the lofty heights of that picture's adorably joyful love story, but Adam Sandler and Winona Ryder (2000's "
Lost Souls
") are, nonetheless, charismatic both together and apart. As the affable Longfellow Deeds, Adam Sandler does not necessarily stretch his acting muscles much (he basically plays the same character over and over), but he does inject the role with an undeniably fetching innocence. How wonderful it is to find someone of Winona Ryder's talent and stature cast opposite Sandler. While the part of Baby Bennett is well within her reach and not terribly challenging, Ryder sparkles with a simple effervescence in performing she has lacked since 1994's "Little Women."
The comedic element of the picture is more of the hit-or-miss variety. Some of the jokes are unfunny and lacking inspiration, including the ongoing hijinks of the aptly named "Crazy Eyes" (Steve Buscemi) or the musty jokes involving Deeds' black, frostbitten foot. On the other side of the fence, screenwriter Tom Herlihy does cook up several outrageously funny bits of lunacy, particularly a hilarious surprise visit to Pam's supposedly made-up hometown of Westchestertonfieldville, Iowa, and another setpiece where Deeds must save a woman and her eight cats from a burning apartment building.
Supporting Sandler and Ryder are John Turturro (2002's "
Collateral Damage
"), as Deeds' foot fetishist butler; Erick Avari (2001's "
The Glass House
"), as Cedars' soft-sided associate, Cecil Anderson; and Conchata Ferrell (2000's "Erin Brockovich"), as Deeds' sassy friend and pizza place coworker, Jan. They all have memorable turns. Only Peter Gallagher (1999's "
American Beauty
"), as the conniving Chuck Cedar, is a downright bore.
If "Mr. Deeds" isn't the funniest movie Adam Sandler has ever made, or the most original or tightly paced, it remains a charming one. Sandler and Ryder go through the paces of the predictable romance, but it works surprisingly well under the helm of these gifted performers. Moreover, the journey Ryder's Babe takes from hard-edged, ruthless reporter to a more genuine, selfless human being adds some emotional weight to a character who might otherwise have been underwritten. As an undemanding, yet engaging, story of two inherently good people who turn out to be soulmates, "Mr. Deeds" is a solid diversion. Sandler fans, especially, will eat it up.
©2002 by Dustin Putman