MGM can make all the excuses they want about why "Deuces Wild," directed by Scott Kalvert (1995's "The Basketball Diaries"), has been held for release for over a year, but the real reason is written all over the screen. Cliched and poorly scripted (by Paul Kimatian and Christopher Gambale) to the point of ridicule, this is not good filmmaking.
Set in Brooklyn, circa 1958, Leon (Stephen Dorff) and Bobby (Brad Renfro) are brothers in a street gang by the name of the Deuces who have been at odds with the Vipers ever since they killed their brother three years earlier. When the man responsible for his death, Marco (Norman Reedus), is released from prison, a war between the two gangs goes into overdrive. Meanwhile, Bobby is torn between the faithfulness of brotherhood and love when he meets and falls for Annie (Fairuza Balk), the sister of Vipers member Jimmy (Balthazar Getty).
"Deuces Wild" is so reliant on stealing elements of other films, from "On the Waterfront" to "West Side Story" to "Romeo and Juliet," that it could be accused of either plagiarism or camp. The problem with buying the latter is that, despite the oft-embarrassing dialogue and shallow plot developments, director Scott Kalvert paints the film as a serious melodrama. The result is anything but serious.
While the Deuces are supposed to be the heroes of the story, how is one supposed to care or sympathize with a gang of troublemakers who really are no more redemptive than the spiteful Vipers? A group of immature delinquents, even Bobby, the film's protagonist, is seen beating up a disabled person for no apparent reason within the opening five minutes.
The cast, made up of a who's-who list of talented young actors, aren't even worthy of mention. All of the characters, save for a single exception, are written in a strictly one-note fashion. If a performer manages to rise above the muck, it is Fairuza Balk (2000's "
Almost Famous
"), lighting up her thankfully frequent scenes as Bobby's new girlfriend, Annie. Annie is the only person in the picture with a modicum of sense, and Balk does well with what she is given.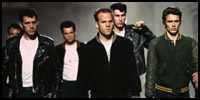 For some mindboggling reason, director Kalvert displays a series of random filmmaking techniques that are more laughable than stylish. Using slow-motion, at one point to an unintentionally funny effect, thunderstorms, fog, and flash cuts, the movie is even all over the map from a technical standpoint. While "Deuces Wild" manages to rejuvenate to life whenever the centerpiece is on Bobby and Annie's burgeoning relationship amidst the chaos of street gangs and family problems, what surrounds them is clumsy and obvious. At best, "Deuces Wild" is adequate direct-to-video fare. At worst, it's a horrifically bad theatrical release.
©2002 by Dustin Putman