Eccentricity oozes from the pores of the characters in "Bandits," a lovably offbeat comedy-drama directed by Barry Levinson (2000's "An Everlasting Piece"). The trio of outcasts (played by Bruce Willis, Billy Bob Thornton, and Cate Blanchett) refuse to play by anyone's rules but their own, yet their desperate yearning to be appreciated and loved has left them feelings lonely. There is an underlying sadness that permeates through "Bandits," which ultimately leads to a sudden redemption on all of their parts that, no matter how short-lived, gives them the chance to do just that — live.
Following a successful, spur-of-the-moment escape from prison, inmates Joe Blake (Bruce Willis) and Terry Collins (Billy Bob Thornton) go on the lam together. With a penchant for robbing banks in the broad daylight (but not before spending the night at the bank manager's house the night before), they soon become criminal celebrities routinely labeled the "Sleepover Bandits." Joe is the rugged, fast-talking leader of the operation, while Terry is the sensitive, rational one; together, they make the perfect team. A mixture of unexpected love, conflict, and aid comes in the form of Kate Wheeler (Cate Blanchett), a depressed, underappreciated housewife who literally runs into Terry with her car, and decides it would be best to join them on the road. After all, it's a whole lot more exciting than the stagnant life she has been leading, and she sees in both Joe and Terry the type of person she has always dreamed about.
The bank robbery sequences have an easygoing, screwball feel to them that makes the idea of robbing banks seem almost too easy. There is a great early scene in which Joe and Terry stay the night with one of the managers' families and eat dinner with them. Snappily written and with a pitch-perfect comedic tone, it is ten minutes of sheer dynamite, complimented by an honest, funny supporting turn by Stacey Travis (2000's "
Traffic
"), as the manager's upset wife.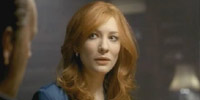 The section of "Bandits" that really cooks, however, is the three-way friendship-romance that blossoms between Joe, Terry, and Kate. Joe and Terry fall in love with Kate, and for a while, they accept the idea of sharing such a smart, beautiful woman. Their amiability on the topic does not last when things get sticky. In one truthful moment, Kate explains to a battling Joe and Terry that she could never choose between them because, together, they are the perfect human being. Joe and Kate's initial connection with each other is also one of surprising sweetness and originality: they discover a mutual love for the song, "Total Eclipse of the Heart," by Bonnie Tyler, which Kate describes as "the ultimate haiku to the complexity of love." She may be right.
As friends Joe and Terry, Bruce Willis (2000's "
Unbreakable
") and Billy Bob Thornton (1999's "
Pushing Tin
") perform their roles with efficiency and earnestness, but it is Cate Blanchett (2000's "
The Gift
") who steals the show as the one-of-a-kind Kate. In one of the standout performances of the whole year, Blanchett, equipped with a flowing wave of red hair, radiates the screen with every motion, nuance, and line of dialogue. Kate is also the most intriguing character; first seen lip-synching to a song while preparing an extravagant dinner, only for her uncaring husband to abruptly inform her he won't be eating, she is a woman on the edge of a nervous breakdown. Through her chance meeting with Joe and Terry, she finds her saviors, and a reason for living.
The general premise of "Bandits" is not a new one; its roots go much further back than 1967's "Bonnie & Clyde." The final twenty minutes also slow down a little as the plot grows more complicated. What stands out, then, is a lovely three-way relationship that develops with delicacy and joy. The soundtrack is also well-chosen; not only is the talented Bonnie Tyler on prominent display, but so is "Beautiful Day," by U2, and the gorgeous ballad, "Superman (It's Not Easy)," by Five For Fighting. Smartly written by Harley Peyton (TV's "Twin Peaks") and directed by Barry Levinson, "Bandits" takes a conventional setup and gives the characters and performances so much life that they prove to be anything but commonplace.
©2001 by Dustin Putman